Daniel Donato's Cosmic Country & Eggy
Wed
December 6, 2023
8:00 pm
CST
(Doors:

7:00 pm

)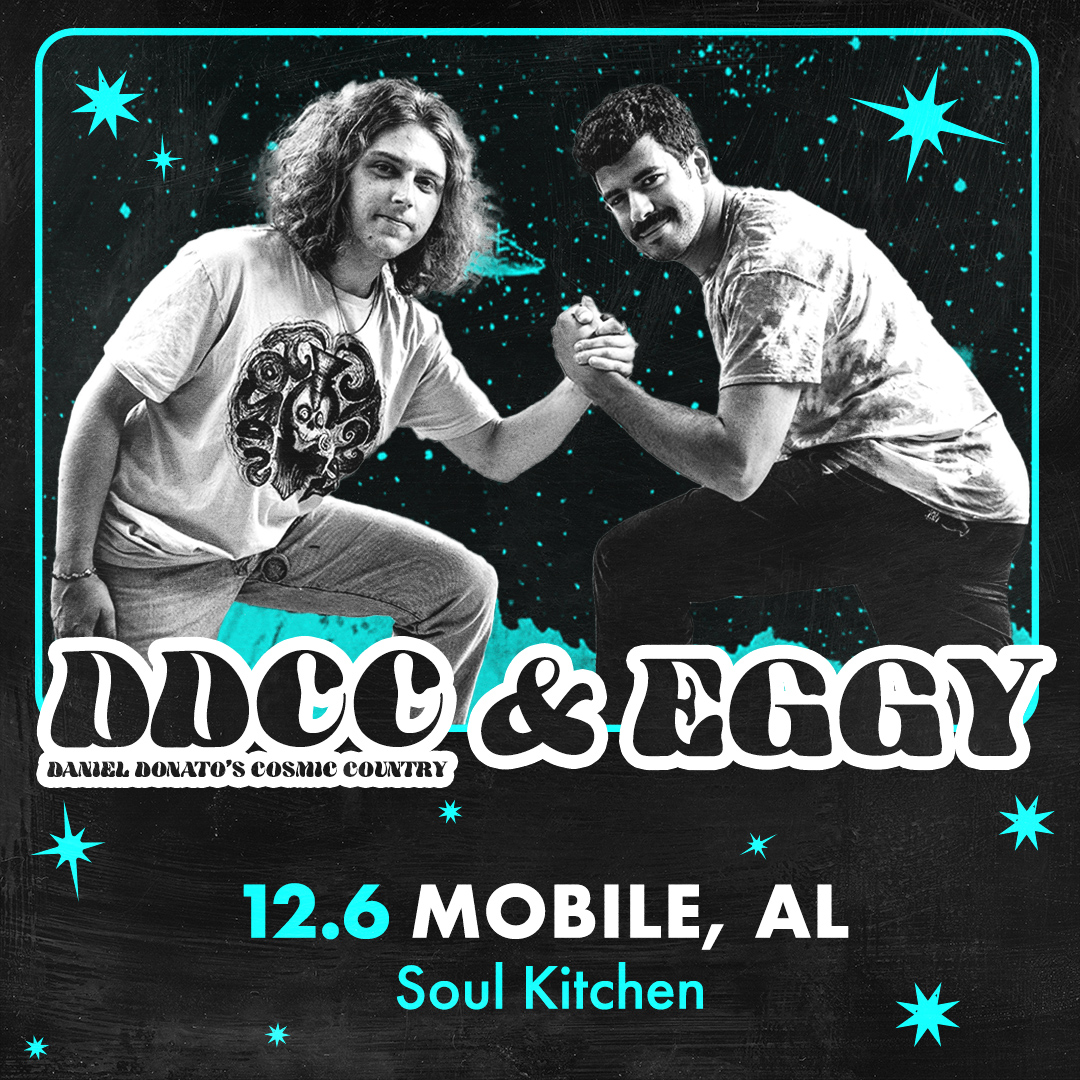 $26.00 - $46.00
Doors open at 700 and show time at 800.
Tickets are $21 in advance and $26 day of show (if available). Seated Side Riser tickets are $46 (ltd qty).
Get adv tickets starting Friday Aug 25th at 10am at www.soulkitchenmobile.com or by calling
866.777.8932
.
Under 18 with a parent only. Anyone under 21 pays $5 surcharge at the door.
All support acts are subject to change without notice.
Daniel Donato's Cosmic Country
WhenpeoplefirstmeetDanielDonato,they'renotfullybracedforthiswalkingtornadoofcreativeenergy."Theythinkthere'ssomethingthattipsthescaleinwaystheydon'tunderstand,"saysDonatoabouthisover-the-top,slightlymanicvibe."ButwhatactuallytipsthescaleistheamountofthoughtandanalysisIputintomyworkandart,allofwhichistakenfromthelessonsofmylife."Donato,a25-year-oldNashvillenative,hasdistilledthoselifelessonsintohisdebutal-bum,AYoungMan'sCountry,hisproperintroductiontothegeneralmusicalaudience.RecordedatNashville'sSoundEmporiuminameretwodaysandproducedbyguitar-aceRobbenFord,therecordweavesoutlawcountry,GratefulDead-styleAmericana,andfirst-ratesongwritingintoasingularformDonatocalls"21st-centurycosmiccoun-try."ItmightsurprisesomethattheTelecaster-wieldingwunderkind,whoat16becametheyoungestmusiciantoregularlyplaytheiconichonkytonkRobert'sWesternWorldwhilegiggingwiththeDonKelleyBand,beganhismusicaljourneyinapurelymillennialfash-ion.Beforeheeverpickedupaguitar,hediscoveredhehadanaptitudeformusicviathevideogameGuitarHero.Atthetime,hedidn'tfeelcompelledtotryhishandattherealthinguntiloneday,abouttheageof12,heheardtheelectricperfectionofGuns'N'Roses'"ParadiseCity"blastfromasetofspeakersandhisworldwaschangedforever."ItwasthefirsttimeIeverhadavisionformylife,"saysDonato,whowaspartlydrawntomusicbecausehesuckedroyallyatskateboarding."Ithentookoneofmydad'soldguitars...andIliterallyfellinlovewithit."Fromthenon,Donatolivedandbreathedmusic,practicinghischopsaroundtheclock.He'dplaybeforeschool,duringhislunchbreak,andintheeveningsathome,sometimesfallingasleepwiththesix-stringinhishands.Itwasn'tlongbeforehewasbuskingonlowerBroadwayinNashville,playingeighthoursadayonweekendsfortips.Itwasafteroneofthoseday'ssessionsthathegotawildhairandsnuckintoRobert'sonanightwhenhouseacttheDonKelleyBandwasplayingandhiswig-domewasblown."ItwasthefirsttimeIeversawabandthatwasthatgoodupclose,"Donatosaid."SoI'mliterallywatchingthemplayandI'mcrying.IdecidedrightthenthatIwantedtobethebestguitarplayerintheworld."DonatocontinuedbuskingoutsidearenasbeforeJohnMayerandPhishconcertsandonthestreetsofNashvilleanditwasthen,whileplayingonBroadway,thathe'dgiveDonKelleyhisbusinesscardeverySaturdaynight,hopingforachancetoaudition.Oneday,whilestillajuniorinhighschool,hegotthecalltocomeplay.Donatowasmorethanready,andhedeliveredthegoodsinspades.Hewassogood,infact,thathebe-camearegularmemberoftheband,performingfournightsaweekformorethan450showswiththegroup.PlayingnightlywiththeDonKelleyBandwasaformidableeducationfortheyoungmu-sician.JammmayhaveplayedinBuckOwens'band,orDollyParton's,orAlanJackson's,expandedhismusicalvocabularywhilehoninghisstagepresence.Alongthewayhewassoakingupstoriesofadventuresontheroadandlearningabouttheupsanddownsofthemusicbusiness.Inshort,hewasgainingpricelesslifelessonsandamusicaleducationfromwellsthatrundeepintothemusicalhistoryofNashville.Aroundthetimeheturned18,oneofDonato'shigh-schoolteachers,aseriousmusicloverwhohadseenhisstudentplayatRobert's,gavehimaGratefulDeadboxset.Itwasanothereurekamomentfortheguitarist.HislovefortheDeadmayhavebeenig-nitedmuchearlierbyvirtueofthefactthathismotherwasabonafideDeadheadwhofollowedthegroupontourwhenshewaspregnantwiththefutureguitarist,butitwasthatcollectionthatchangedthewayhelookedatmusic."ItgavemeatietoalloftheclassiccountrygoldI'dbeenworkingdownatthehonky-tonkseachweekend,"hesaid."GratefulDeadandMerleHaggardhadalwayslivedinmyheart,butnow,thelinkwasmade,andIhadavisiononhowtokeepitaliveforthisgenerationthatIamcomingfrom."DuringthedaysofhisRobert'sresidency,Donatocontinuedtobuskatvariouslocales,evenplayingtheGrandOleOpry,anditisthesumofallthesegigs,experiencesanyteenagemusicianwouldkillfor,thatinformthesoundsonAYoungMan'sCountry."Ain'tLivingLongLikeThis,"oneofthreecoversonthealbum,isasongbyWaylonJennings,whowasrecordingattheSoundEmporiumthedayDonatowasborn."AngelFromMontgomery,"asongDonatolearnedontheflywhilebuskingfortourists,paystributetothelateJohnPrine.DonatorecordedhisuniquetakeonthetunebeforePrine'sdeath.TheGratefulDead's"FireOnTheMountain"istackedonto"MeetMeInDallas,"atuneDonatowrotewhileontheroadwithPaulCauthen.Theothersevensongs,alloriginals,showcasethepromiseofayoungsongwritercomingintohisown,oneofthehighlightsbeing"LuckoftheDraw."ThemessageofthesesongscontainthecentraltenetofDonato's"CosmicCountry"ethos,whichisaboutfindingthecouragetoblazeyourownpath.Assuch,itisanethostheartistextendsbeyondmusicintothechannelsofsocialmedia,wherehe'sbuiltupahugefollowingofdevoted"DDHeads,"ashisfanscallthemselves.Hispodcast,"DanielDonato'sLostHighway,"bringstogetherlike-mindedcreativestogetattheheartofwhatmakesartiststick,forwhichhe'sinterviewedBrothersOsborne,BrentCobb,Or-villePeck,andGarryTalentofBruceSpringsteen'sEStreetBand.IncubatedtothesoundsoftheDead,educatedbysomeofNashville'sfinestplayers,andhavingmorethan2,000showsunderhisbeltandasocialmediapresence,DanielDonatoisindeedamillennialwhirligigofcreativefire.He'sbeendabblinginprofes-sionalmusicsincetheageof14andyethe'sjustgettingstarted.AYoungMan'sCoun-tryistheportraitofarestlessartistasayoungman,onewhosestoryissingularandisstillinitsexciting,earlychapters--andasthiseffortshows,thefutureisindeedcosingregularlywithNashville'smostseasonedplayers,stalwartpickerswho