THE TAYLOR PARTY: TAYLOR SWIFT NIGHT - (18+)"
Fri
April 14, 2023
9:00 pm
CDT
(Doors:

8:00 pm

)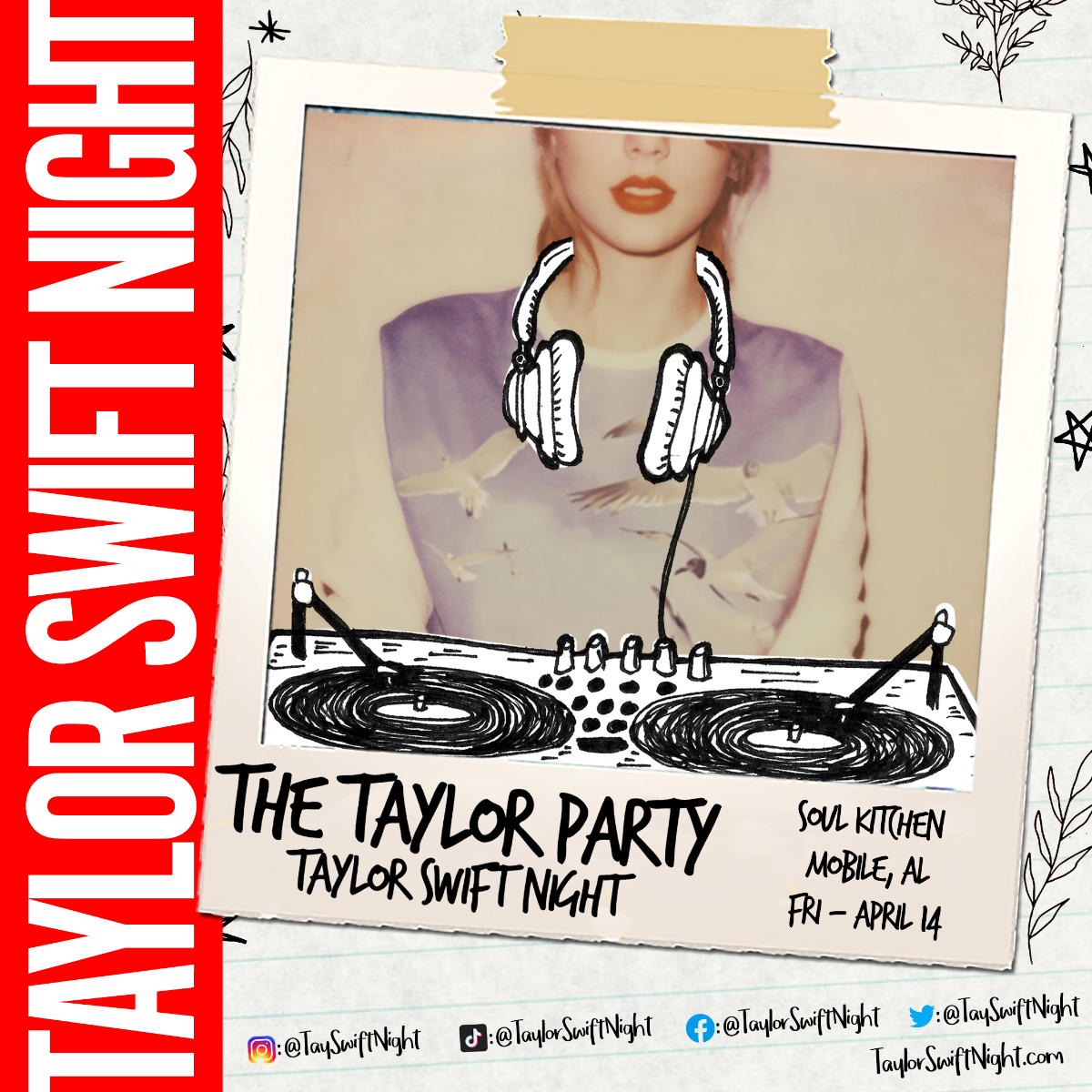 $18.00 - $35.00
A Taylor Swift Inspired Dance Party

Hey, Lovers!
Can we ask you a Question…Are you ready for it?
We promise that you'll never find another party like THE TAYLOR PARTY: TAYLOR SWIFT NIGHT, a Taylor Swift
Inspired Dance Party. ✨
Best believe our party is Taylor-made for ultimate fans. Surrounded by Swifties, you'll sing and dance through all
her iconic eras.
So, grab your 👑 and your crew, and come party, for evermore!
We know you polish up real… NICE."

Doors open at 800 and show time at 900.

Tickets start at $15 and go up based on availability. Seated Side Riser tickets are $35 (ltd qty).

Get adv tickets starting Friday Dec 9th at 10am at www.soulkitchenmobile.com or by calling 866.777.8932.

This is an 18+ event. Anyone under 21 pays $5 surcharge at the door.

All support acts are subject to change without notice.

(18+ event) - DOORS OPEN AT 800 - TSN Parties LLC is not affiliated with, endorsedby, authorized by, sponsored by, or in any way officially connected with Taylor Swift, TAS Rights Management,LLC, or any of their affiliates or subsidiaries. Further, any similarities in services or events between TSN Parties
LLC and any third party entities are purely coincidental and do not imply any association between TSN Parties LLC
and such third party entities.

THE TAYLOR PARTY: TAYLOR SWIFT NIGHT - (18+)"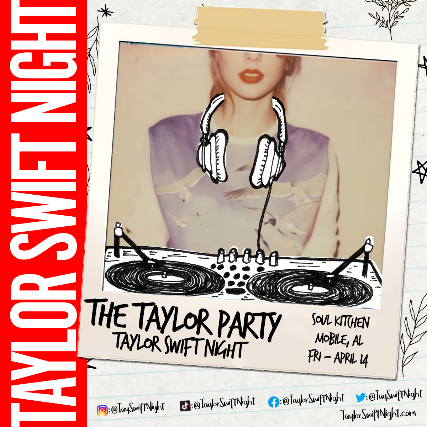 Hey, Lovers!
Can we ask you a Question…Are you ready for it?
We promise that you'll never find another party like THE TAYLOR PARTY: TAYLOR SWIFT NIGHT, a Taylor Swift
Inspired Dance Party. ✨
Best believe our party is Taylor-made for ultimate fans. Surrounded by Swifties, you'll sing and dance through all
her iconic eras.
So, grab your 👑 and your crew, and come party, for evermore!
We know you polish up real… NICE."