TK101, Soul Kitchen & Steve Hall Prod Present:
Dirty Honey
Sat
June 12, 2021
8:00 pm
CDT
(Doors:

7:00 pm

)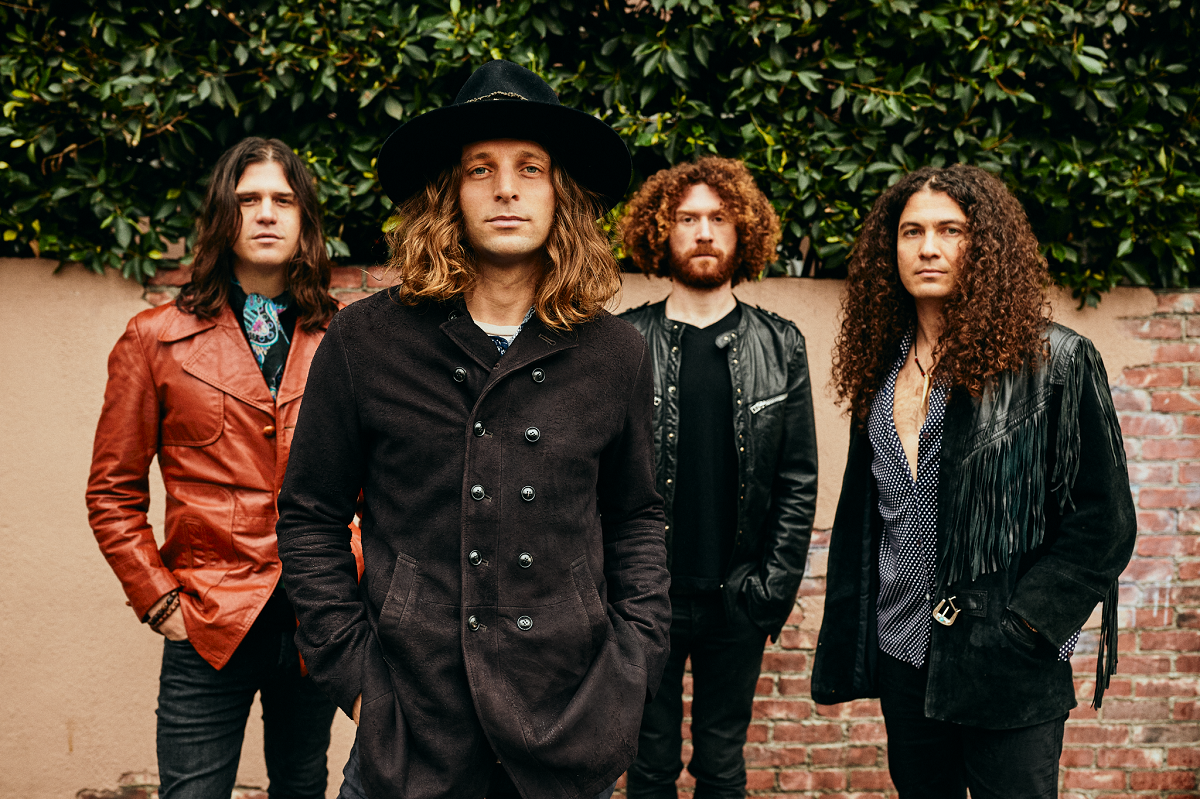 $25.00 - $50.00
Doors open at 700 and show time at 800.

Tickets are $22.50 in adv and $25 day of show (if avail). Seated Side Riser tickets are $50 (ltd qty - avail online only).

Get adv tickets starting Friday May 7th at 10am at www.soulkitchenmobile.com or by calling 866.777.8932.

Under 18 with a parent only.

All support acts are subject to change without notice
Dirty Honey
Some musicians take a while to build an audience and connect with fans. For the Los Angeles-based quartet Dirty Honey, success came right out of the gate. Released in March 2019, the band's debut single, "When I'm Gone," became the first song by an unsigned artist to reach No. 1 onBillboard'sMainstream Rock chart. Their second single, "Rolling 7s," went into the Top 5and was still headed up when COVID changed everything. That same year, Dirty Honey opened for The Who, Guns 'N Roses, Slash,and Alter Bridge and was the "do-not-miss-band" at major rock festivals such as Welcome to Rockville, Rocklahoma, Louder Than Life, Heavy MTL, and Epicenter. Onitsfirst U.S. headline tour in January and February 2020, the band soldout every date.When it came time to recorditsself-titled full-length debutalbum, the band—vocalist Marc LaBelle, guitarist John Notto, bassist Justin Smolian, and drummer Corey Coverstone—wasn'tabout to mess with what was already working. Teaming up with producer Nick DiDia (Rage Against the Machine, Pearl Jam), who also produced the band's2019 self-titled EP, Dirty Honey again captured the lightning-in-a-bottle dynamics and energy of their live sound."As a guitarist, I'm always inspired by the everlasting pursuit of the perfect riff," says Notto. "I also wanted to extend the artistic statement that we had already made. We weren'tlooking to sound different, or prove our growth, necessarily. It was more about, 'Oh, you thought thatwas good? Hold my beer.'""Because of the pandemic," added drummer Coverstone, "we had a lot more time to write and prepare, which was great. It meant that we were able to workshop the songs a lot more, and I thinkit really made a difference."Dirty Honey's album indeed builds on the band's output to date, with airtight songwriting that plays up their strengths: sexy, bluesy, nasty rock'n'roll, melodic hard rock, and soulful 70s blues-rock. On "The Wire,"LaBelle reaffirms his status as one of contemporary rock's best vocalists, while "Another Last Time" is a raunchy, timeless ballad about a toxic relationship that you just can't stop saying goodbye to. "Tied Up" and the album's lead single "California Dreamin,'' both feature smoking guitar solos bookended by massive riffs and hooks."'California Dreaming' was the last song we wrote," said bassist Justin Smolian. "We finished it about two weeks before we recorded it, so the song was still so new, and we were trying out different things,so every take was a little different. But there was that one where we just captured it, and it was magic."Although each band member started playing music as kids—at the age of eight, Notto's parents even bought him a red-and-white Stratocaster—each one brings eclectic influences to Dirty Honey's sound. For example, drummer Coverstone has studied with jazz and L.A. session drummers but loves heavy metal; Notto grew up
listening to '70s funk and R&B as well as rock 'n' roll,and bassist Smolian has a bachelor of music in classical guitar and loves Tom Petty and The Beach Boys. LaBelle meanwhile,takes cues from hissongwriting idols (to name a few, Robert Plant, Steven Tyler, Mick Jagger, Chris Robinson, and the late Chris Cornell) when coming up with lyrics. As a result, the songs on the Dirty Honey albumhint at life's ebbs and flows—shattering heartbreak, romantic connection, intense soul-searching—while giving listeners space to draw their own conclusions."Sometimes,if you just let lyrics pass behind your ears, they sound like cool shit is being said," LaBelle says. "And then once you dive in, you realize, 'Oh, that's really thoughtful.' But it still doesn't have a meaning that's easy to pinpoint. There's an overarching idea that is really cool, but it's not necessarily on-the-nose."Although theDirty Honey albummay sound effortless, its genesis had a bumpy start. The day before the band members were due to fly to Australia to track the album, Los Angeles entered lockdown due to the COVID-19 pandemic,and traveling was off the table. However, Dirty Honey wasstill eager to work with DiDia, so they devised a Plan B: recording the full-length in a Los Angeles studio with one of DiDia's long-time engineers, and the producer beamed into the proceedings via the magic of modern technology."He was able to listen to what we were laying down in real-time, through this app," says LaBelle. It was like he was in the room with us. It was surprisingly seamless the way it all went down."Having to switch gears delayed the start of recording slightly, although this extra time ended up being a boon. Dirty Honey rented a rehearsal space and demoed the album's songs in advance, meaning the tracks were in good shape when DiDia came onboard. Notto mixed and recorded these workshopped tracks himself, which helped him rediscover one of Dirty Honey's biggest strengths: being well-rehearsed while not overpolishing their work."I've learned just a little bit more about what people might mean when they say, magic—you know, 'This one has the magic,'" he says. "We would do two and three different demos of a song, so there would be a few versions. On a few occasions, the version that people kept going back to was the sloppiest, if you look at it from a performance standpoint."LaBelle agrees. "It's just about getting the performance right and not thinking about it too much. I never like to be perfect in the studio. None of the stuff that I really liked as a kid was. I don't really see myself getting away from that too much in the future just because I think you lose the soul if you do it too many times, if it's too perfect."Notto also admits that the creative process isn't necessarily always all fun and games. But for him and the rest of Dirty Honey, pushing through those tough times and coming out stronger on the other side is worth it. "When you finally come through on those moments, that's where the real magiccomes in," he says. "What makes all of our songs fun to play and listen to is we don't allow ourselves to stop short of getting the best possible results out of each one of them."
Joyous Wolf
Joyous Wolf is a Rock band from Southern California formed in 2014 by vocalist Nick Reese, guitarist Blake Allard, bassist Greg Braccio, and drummer Robert Sodaro. Reese and Sodaro met on their first day of 6th grade during student orientation. They went to different high schools where Sodaro would go on to befriend Braccio. During that time Reese, by chance, met Allard in the acoustic room at Guitar Center where they would jam CCR's "Born on the Bayou". There was an immediate dynamic between the two that ultimately led to an exchange of information. Months later Reese reached out to both Sodaro and Allard with the interest of starting a new project with them. Braccio would soon follow suit.Fusing together influences ranging from Heavy Metal to Delta Blues, Joyous Wolf creates an expressive, high-energy fingerprint that separates themselves from their contemporaries in the realm of Modern Rock".